Serum free baculovirus insect cell expression medium – BioConcept
The SF-4 baculovirus insect cell expression medium from BioConcept provides high yield high quality proteins, suitable for baculovirus expression in all insect cells. Contrary to other baculovirus expression media from other suppliers, BioConcept test and screen various critical ingredients and as such the SF-4 medium has practically no variability. This results in significant improvements to consistency in culture and protein expression. BioConcept's SF-4 medium is commonly and broadly used in Switzerland and numerous highly rated Nature papers have been published using their SF-4 medium. In addition, for amino acid isotype labelling applications, SF-4 is available in various amino acid depleted variations.
Key Features
Suitable for baculovirus expression in all insect cells: Spodoptera frugiperda (SF9, SF21) BTI-TN-5B1-4 (High FiveTM),Drosophila melanogaster (D.Mel-2) cells
High Cell Density
Fast Adaptation
High Protein Yield
No variability between lots
Stable in fridge for long periods of time
Cost competitive
High yield of expressed proteins beyond current commercial media
Customer Benefits
All cell types can be cultivated: monolayer-, spinner- or shaking cultures, adherent cells and suspension cells
The medium contains all additives necessary for the cultivation of insect cells in the optimal concentration: steroids, amino acids, organic acids, glutamine and glucose
Product Information
Product Description: SF-4 Baculo Express ICM "ready to use"
Product Codes: 9-00F38-I (500ml), 9-00F38-K (1L)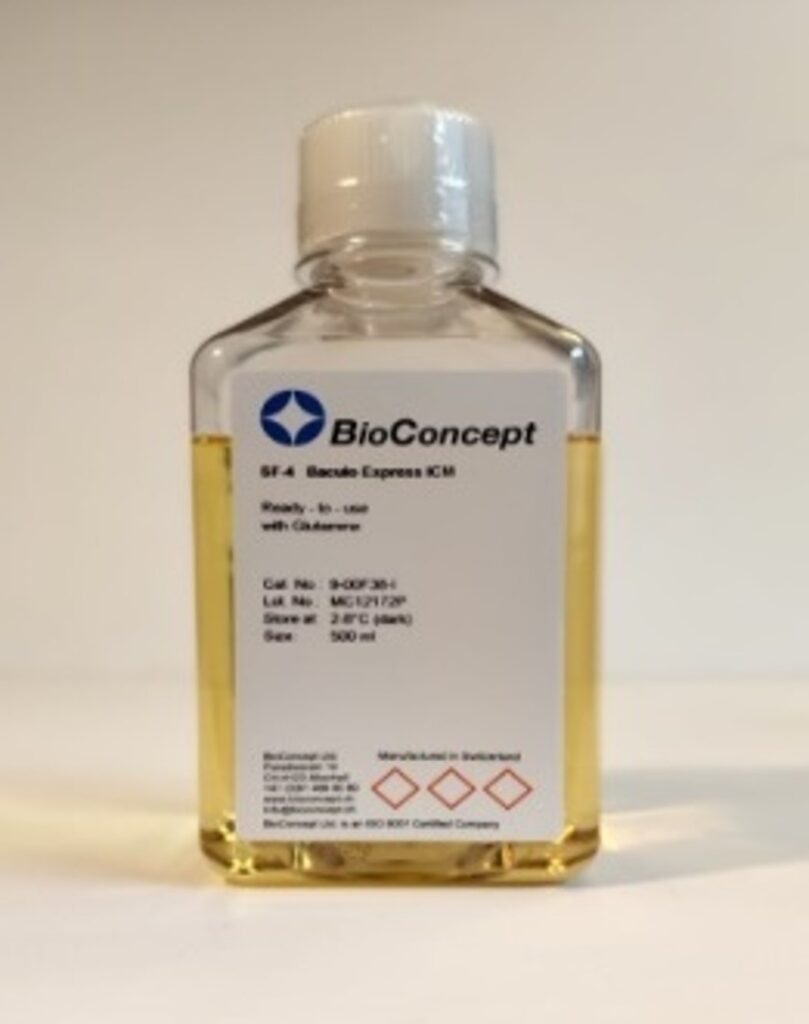 Amino Acid Depleted Media
9-07S38-I: SF-4 Baculo Express (1.1× conc.), w/o yeast extract, w/o L-Valine 500 ml
9-10S38-I: SF-4 Baculo Express (1.1× conc.), w/o yeast extract, w/o Methionine 500 ml
9-05S38-I: SF-4 Baculo Express (1.1× conc.), w/o yeast extract, w/o L-Tyrosine 500 ml
9-02S38-I: SF-4 Baculo Express (1.1× conc.), w/o yeast extract, w/o amino acids 500 ml
Amino acid depleted SF-4 media (Cat. No: 9-07S38-I, 9-10S38-I, 9-05S38-I and 9-02S38-I) are an efficient reagent for isotope labeling in NMR studies. Other modifications are available upon request. Please contact us!
Product References
Schlaeger E.J. (1996) Medium Design for insect cell culture; (Cytotechnology) 20 57–70
Schlaeger E.J. (1996) The protein hydrolysate, Primatone RL, is a cost-effective multiple growth promotor of mammalian cell culture in serumcontaining and serum-free media and displays anti-apoptosis properties; Journal of Immunological Methods 194 191–199
Schlaeger E.J., Foggetta, M., Vonach, J.M., Christensen, K. (1993) SF-1, a low cost culture medium for the production of recombinant proteins
in baculovirus infected cells Biotechnology Techniques 7 (3) 183–188
Schlaeger, E.J., Loetscher, H., Gentz, R. (1992) Fermentation scale up: Production of soluble human TNF receptors. in Workshop on
Baculovirus and recombinant protein production processes, Interlaken, Switzerland. Editors: J.M. Vlak, E.-J. Schlaeger, A.R. Bernard
Ljunggren, J., Häggström, I. (1992) Glutamine limited fed-batch culture reduces the overflow metabolism of amino acids in myeloma cells.
Cytotechnology 8 45–56
Law, J.H., Wells, M.A. (1989) Insects as biochemical models. (J.Biol.Chem.) 264 16335–16338
Grace, T.D.C. (1962) Establishment of four strains of cells from insect tissue grown in vitro Nature 195 788–789
Vaughn, J.L. (1968) A review of the use of insect tissue culture for the study of insect- associated viruses. .Top.Microbiol.Immunol. 42 108–128
Weiss, S.A., Smith, G.C., Kalter, S.S., Vaughn, J.L. (1981) Improved method for the production of insect cell cultures in large volume. In Vitro 17
495–502
Strauss A. et al (2003) Amino-acid-type selective isotope labeling of proteins expressed in Baculovirus-infected insect cells useful for NMR
studies Journal of Biomolecular NMR 26 367–372
Gosser AD, Hinniger A, Gutmann S, Jahnke W, Strauss A, Fernández C. (2011) A simple protocol for amino acid type selective isotope labeling
in insect cells with improved yields and high reproducibility. J Biomol NMR. Dec 51 (4): 449–456
Gossert AD, Jahnke W. (2012) Isotope labeling in insect cells. Adv Exp Med Biol. 992:179–196
Sitarska A, Skora L, Klopp J, Roest S, Fernández C, Shrestha B,Gossert AD. (2015) Affordable uniform isote labeling with 2H, 13C and 15N in
insect cells. Journal of Biomolecular NMR 62, Issue 2, 191–197
Opitz C, Isogai S, Grzesiek S. (2015) An economic approach to efficient isotope labeling in insect cells using homemade 15N-, 13C- and
2H-labeled yeast extracts. Journal of Biomolecular NMR June 2015
Isogai S. et. al. (2016) Backbone NBR reveals allosteric signal transductionnetworks in the beta1-adrenergic receptor. Nature 530, 237–241
BioConcept products are distributed in the UK by Caltag Medsystems. If you have any questions on the products listed on this page, please contact us.
Serum free baculovirus insect cell expression medium – BioConcept